"Retire and start living"
Mountain View Village is located on the sunny northern slopes of Timaru, overlooking rolling farmland and beyond to a magnificent vista of the snow-capped Southern Alps.
Discover a friendly caring community with committee-arranged social activities, sports, library, outings, and fellowship evenings.
Our 95 dwellings are set amongst beautifully maintained gardens and lawns which create a peaceful setting while strategically placed shrubs and trees ensure privacy.
The location of Mountain View Village within the Timaru District was carefully chosen with bus stops close by, a shopping center five minutes walk away and Timaru's largest shopping mall and supermarket with 14 specialty shops less than seven minutes drive.
Downtown Timaru is 10 minutes by car where you will find a great selection of shops and cultural facilities including a well stocked library, cinemas, theatre, museum, art gallery and churches of all denominations.
Caroline Bay is one of Timaru's greatest assets which comes alive during the summer holiday carnival period and is only minutes away by car. It provides a wonderful venue for family gatherings, live outdoor concerts on the sound shell, a huge bird aviary and board walks across the sand. CBay, Timaru's Aquatic Centre is close by which provides a wide variety of facilities available for all ages.
Catch up with the latest news in the village: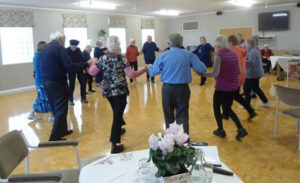 A most enjoyable afternoon of music, dancing, singing and food. As usual, this was enjoyed by all who attended, some of whom joined in the
Read More
Please contact us for further information or enquiries.
We welcome visotors to our friendly village.
Subscribe to our newsletter